Understanding Basic Real Estate Terms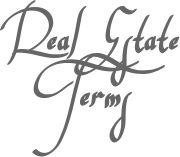 Understanding Basic Real Estate Terms     
The real estate industry is just like other industries.  There are terms and acronyms unique to homes and home lending that are used frequently in advertisements, contracts and basic conversations.  Here is a list of the some of the most common terms to help you understand what is going on.
Appraisal – An assessment or estimate of what a home is worth in today's market. This is an in-depth analysis that banks require in order to finance a home.
Assum Fin. – This means the home has financing that could be assumed by the new buyer.
CMA – Acronym for Comparative Marketing Analysis.  This is a report that a Realtor® can produce to show the prices of different homes that sold in the area.  The report can also show homes that are currently for sale and even homes that formerly were listed up for sale but did not receive any successful bids.
3B/2B – This means the home has 3 bedrooms and 2 full bathrooms. The first number always refers to the number of bedrooms and the second number refers to the number of baths. Most of the time a bedroom indicates a room with a window, closet and place for a bed, however this can differ among areas. A full bathroom has a bathtub, toilet and sink.  Some people refer to a three quarter bath as a bathroom that has a shower stall along with a sink and toilet.  The half bath does not have a shower or bathtub at all, but only has the sink and toilet.
Contingency – This is a legal term that means the home purchase agreement will not be binding until a particular condition is fulfilled.  For instance, the buyer could request a satisfactory inspection of the home before completing the loan.
Closing Costs – These are the various fees associated with completing a mortgage loan.  There are fees charged by the lender, the closing attorney that conducts the title search, the local courthouse for recording the mortgage and several other items.
Fixture – This is a broad term that refers to things attached to the home.  Some examples are light fixtures, landscaping, carpeting and window adornment.
FDR – This is the dining area.  The F stands for "Formal."
FP or frplc or fplc – All of these are acronyms for a fireplace
Gar – This is an acronym for a garage.  A garden is typically abbreviated as gard.
HWF or hdwd or hdw – These are various acronyms that refer to hard wood flooring.
In-law quarters – This usually refers to a section of the home that has a full bedroom, full bath, kitchen and sitting area.  It may even have a separate entrance.  It simply indicates a place where another person can live in the home and have some degree of privacy.
Listing – An agreement made between the home owner and a listing agent to market and actively look for buyers of the home.  Listing is often used to simply refer to a home that is available for sale.
LTV – The term 'Loan to Value' refers to how much of a home purchase is going to be financed. How much of the value of the home with your loan be for. A common LTV is 80% of the home's price or value.
Move in Condition – This is typically a description of a home that does not need updates. The interior components of the home are in great condition.
Pvt – This is an abbreviation for "private."  It can refer to the home's location or a feature of the home.